21st May 2011 - MVS Charity Trip
On 21st May, a total of 44 volunteers has participated in a Charity trip to the Children's Protection Society(CPS),Scotland Road, Penang.
The orphans from the CPS Penang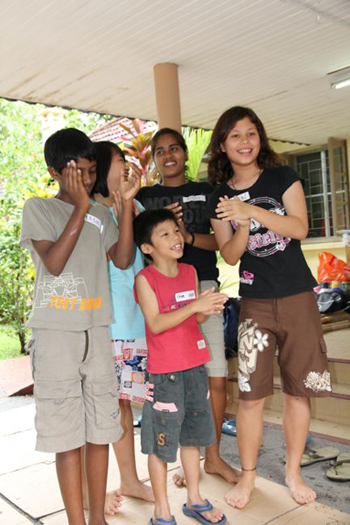 Carving smiles on the orphans faces
Headed by ViTrox's Director Mr Steven Siaw and organized by ViTrox's MVS team, the charity programme is part of ViTrox's Corporate Social Responsibilty to contribute back to the society.
Having Quiz Session
Birthday Celebration
The event started off early in the morning at 8am and the programme consists of 'Ice-Breaking' session, healthy 'Aerobic Session', 'Sandwich DIY' session, 'Game Collect Red Bean', 'Quiz Session', 'Recycle Sorting Game', 'Across the bridge', 'Winner Presentation', 'Birthday Celebration (May)', 'Photo Session', 'Gotong-Royong' and ends at 12pm with 'Bicycle Repairing' session.
Prize Giving Ceremony for the winners
Mr. Steven Siaw presenting the cheque to the CPS