21st March 2023 - ViTrox Inspires Passion for STEM among Local Students through Robotics Competition
PENANG, MALAYSIA - FEBRUARY 2023 ViTrox Corporation Berhad partnered with The Penang Science Cluster (PSC) and organised the FIRST® Tech Challenge 2022/2023 with the theme of "POWERPLAY" which aimed to inspire and develop the next generation of skilled engineers and scientists. The Company sponsored the robotics competition, and eight engineers volunteered to serve as mentors, coaching the participating students on designing and building robots to execute specific tasks such as object retrieval and placement.
The event attracted 20 teams from 16 secondary schools, each consisting of seven to ten students who were paired with engineers from various industries. The engineers had volunteered to commit their time for up to five months, from October 2022 to February 2023, to provide their guidance and support to the students.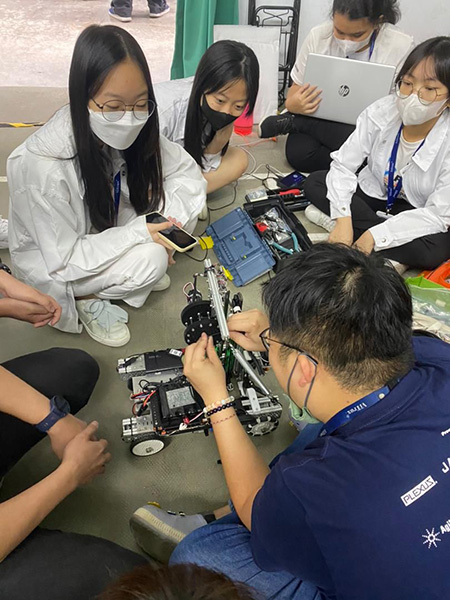 Students participating in the robotics competition are tasked with designing and constructing a robot that is capable of executing specific actions.
With outstanding performance, Team Robodes from Chung Ling Butterworth (N.T.) High School, which was mentored by ViTrox engineers, emerged as the champion and received the Championship Alliance.
The team was also recognised for their impressive performance during the competition, winning the Design Award, Control Award, and Inspire Award. Their success was an outcome of their exceptional robot design and game strategy, and their incorporation of industrial design elements into their solution, which resulted in a functional and aesthetically pleasing design.
The team also demonstrated innovative thinking in solving the game challenges, utilising sensors and software to enhance the robot's functionality on the playing field. Their achievements were a testament to their hard work and motivation to strive for excellence in the field of robotics.
Another team mentored by ViTrox's engineers, Team Zero from SMJK Convent Dato Keramat, was awarded Finalist Alliance, while ViTrox's engineers also received the Compass Award for outstanding guidance and support to a team throughout the building season, demonstrating the value of being a Gracious Professional.
ViTrox's engineers also provided extraordinary guidance with professional skills and knowledge to both teams during the competition. They gave advice on robot design and improved functionally on the spot, which was essential for these two teams to collaborate effectively and perform well.
In addition to recognising the accomplishments of the winning teams, the FIRST® Tech Challenge sparked a passion for STEM in the participating students. It also provided a unique opportunity for seasoned engineers to impart their knowledge and expertise to the next generation of innovators.
ViTrox's engineers provided real-time advice on robot design and enhanced the robots' functionality during the competition.
ViTrox is committed to nurturing young talent in STEM and has taken proactive steps to promote innovation in schools and generate interest among students. The Company aims to inspire and prepare the next wave of innovators to enter the industry and contribute to the STEM field.
Team Robodes, Team Zero and their mentors from ViTrox shared the joy of achievement after five months of working and learning together.