13th July 2022 - ViTrox co-sponsors robotics competition to cultivate future engineers and scientists
PENANG, MALAYSIA - 25 JUNE 2022 - To support building a local healthy talent pipeline in science, technology, engineering and mathematics (STEM), ViTrox Corporation co-sponsored the robotics competition FIRST® Tech Challenge 2021/2022. Engineers from ViTrox stepped forward to volunteer and coach participating students to design and build a robot that can execute specific tasks, like picking up objects and placing them in their rightful place.
Team Robodes from Chung Ling Butterworth (N.T.) High School, whose mentors were ViTrox's engineers, won the Champion of the Penang FIRST® Tech Challenge 2022.
The robotics competition requires students to design and build a functional robot capable of executing specific tasks.
The event was organised by Penang Science Cluster (PSC), a non-profit educational organisation aiming to create a culture of innovation and entrepreneurship among the young in Malaysia. The robotics competition attracted students from 12 schools, which formed into 14 teams. Each team consisted of about seven to ten students and was paired with engineers from the industry.
Since the programme started, five ViTrox engineers filled their weekend schedule to mentor two groups of secondary school students. "It is great to see that the students not only can come up with plenty of crazy ideas but also work day and night to achieve them throughout the four-month preparation," said R&D engineer Liang Zhi Hou.
The mentors coached participants in robotics skills, such as CAD drawing, electronic drawing and 3D printing, at ViTrox Makerspace during the weekends. The makerspace is an innovative playground where people with shared interests, especially in computing or technology, can gather to work on projects while sharing ideas, equipment and knowledge.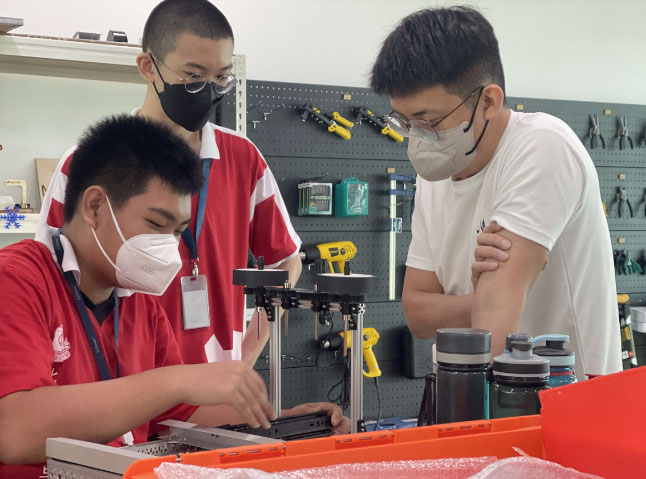 ViTrox's engineers coached participants in coding and building the robots during weekends at ViTrox Makerspace.
The four-month project was a long journey because the students had minimal knowledge about industrial design, computer programming and electrical and electronic engineering. The Convent Dato Keramat Secondary team was a group of Forms 2 and 3 students, naming themselves "Team ZERO" to reflect their lack of knowledge in robotics.
At ViTrox Makerspace, mentors and students could use the basic and advanced power tools, digital fabrication tools and electronic instruments to build the robot.
Nevertheless, Team Zero conquered the award for Honourable Mention on 25 June 2022, ranking in the top five after showcasing their newly invented robot. "We learn together from scratch, share the pain and suffering, work side by side, and strive for a common goal in these four months. We absolutely enjoyed ourselves and had fun while we were along. I'm thrilled and delighted to get the Honourable Mention, but I understand it's all because of the support and help of my mentors, Penang Science Cluster, and ViTrox, as well as the team's cooperation," said the team leader Chan Xiau En.
Team ZERO from Convent Dato Keramat Secondary and their mentors from ViTrox shared the joy of achievement after four months of working together.
Apart from the achievement, the team also secured the "Compass Award", where their mentors were seen as being the most helpful and inspiring ones. The team mentor Andrew Yap Jiun Herng who is a manufacturing engineer said, "The most important thing which I found is to embark on and cultivate the love, passion, and attitude of the student toward the robotics world."
The team Robodes was a group of Forms 4 and 5 students from Chung Ling Butterworth (N.T.) High School. These potential young engineers sat proudly on the throne, claiming the Champion of the Penang FIRST® Tech Challenge 2022. "All of our hard work just paid off. It has been days that I stayed up late at night, but it is worth it!" team member Nicholas Tan Hong Junn said. "It has been such a memorable experience for all of us to be able to participate in the competition as we have learnt a lot of things from the process." Team Robodes also received the "Motivate Award", where the team is recognised to work together in a team and embrace the culture and spirit of FIRST together as a team.
On 25 June 2022, Team Robodes and other teams congregate to showcase their innovative creation.
Beyond the awards, the competition stirred up the interest in STEM among students and provided a platform for real-life engineers to share their expertise with the younger generation. As the teacher advisor, Loh Chee Hoo from Convent Dato Keramat Secondary said, "ViTrox mentors really demonstrated the value and the culture embraced by ViTrox, like really focus and emphasise on the education for the younger generation. The mentors not only teach the student knowledge and skill but also they taught the students about the values."
To support building the next generation of innovators, ViTrox put in an effort to promote STEM in school to spark students' interests in innovation and ensure a good flow of young students into this sector.